Get your Copy of The 5-Minute Drill Today!
LinkedIn: The 5-Minute Drill for Executive Networking Success
Paperback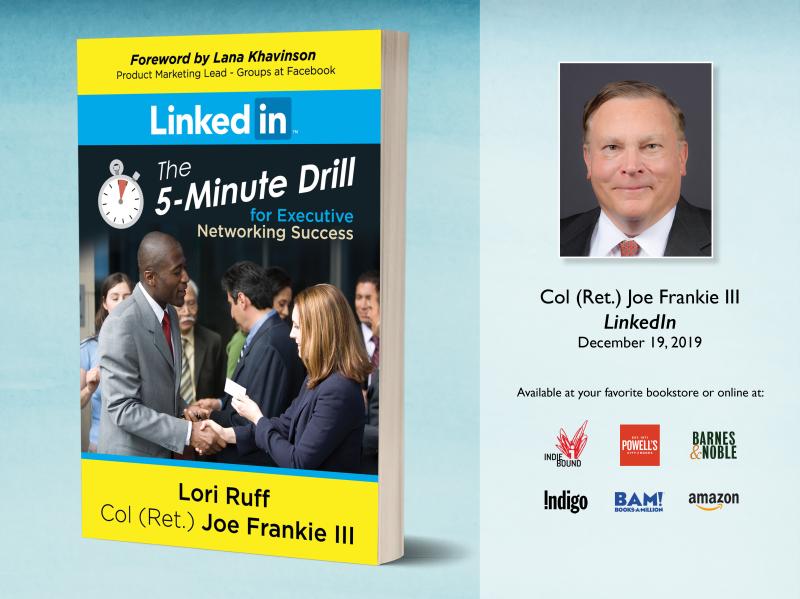 LinkedIn: The 5-Minute Drill for Executive Networking Success is written for executives and transitioning military leaders to see the immediate benefit of using LinkedIn to network, build better teams, land new opportunities, pivot, change sectors, get promoted, and better merchandise their talents, expertise, and skill sets.
Executives are busy people and LinkedIn is an extremely valuable resource. Once leaders know how to use LinkedIn for their desired purpose, they can quickly organize a 5-minute drill to accomplish their desired goals. LinkedIn represents the collaboration of two successful thought leaders, Lori Ruff and Joe Frankie III, both of whom have consulted with and crafted profiles for hundreds of executives since the early days of LinkedIn. They provide recommendations for representing oneself online as well as advice on how to navigate a daily routine for executives and leaders to keep themselves in sight and top of mind to people looking for someone just like them. Whether someone is representing their company or themselves, online image does matter and Lori and Joe show readers how to achieve online networking success.
Print ISBN: 9781642794540   •   eBook ISBN: 9781642794557